Everyone counts
Our supportive culture and career development opportunities make for a brilliant place to work.
There's huge satisfaction from knowing that your talent and hard work has a purpose. You are making a difference that counts.
Not only are you helping people recover from an injury or illness, you are supporting employers to promote sustainable work practices.
You won't be forgotten here.
Your career at EML will be full of opportunities to gain new skills, work, grow and succeed with us.
The focus and support we provide for career development are one of the reasons we have such a vibrant, engaged and talented team.
We stand together as equals
EML is an equal opportunity employer so by coming to work for us, you'll be part of a culture that celebrates diversity and inclusion. We're committed to maintaining a workplace where everyone feels valued and where we show respect, integrity and honesty.
This includes:
Building a gender inclusive culture that supports women in our talent pipeline
Unbiased recruitment practices that encourage people of all ages, backgrounds, religions, sexual orientation and gender identity to apply
Eliminating workplace discrimination, bullying and harassment
Providing reasonable adjustments to accommodate applicants with disabilites
Working with the Australian Network on Disability (AND) to provide an appropriate recruitment process and employment experience to all candidates
Listening to different perspectives and being open to new ideas
We recognise that the most innovative solutions and ideas come from a diverse group of minds, cultures, experiences and viewpoints. We celebrate innovation just as we celebrate and value the differences that make up our incredible team.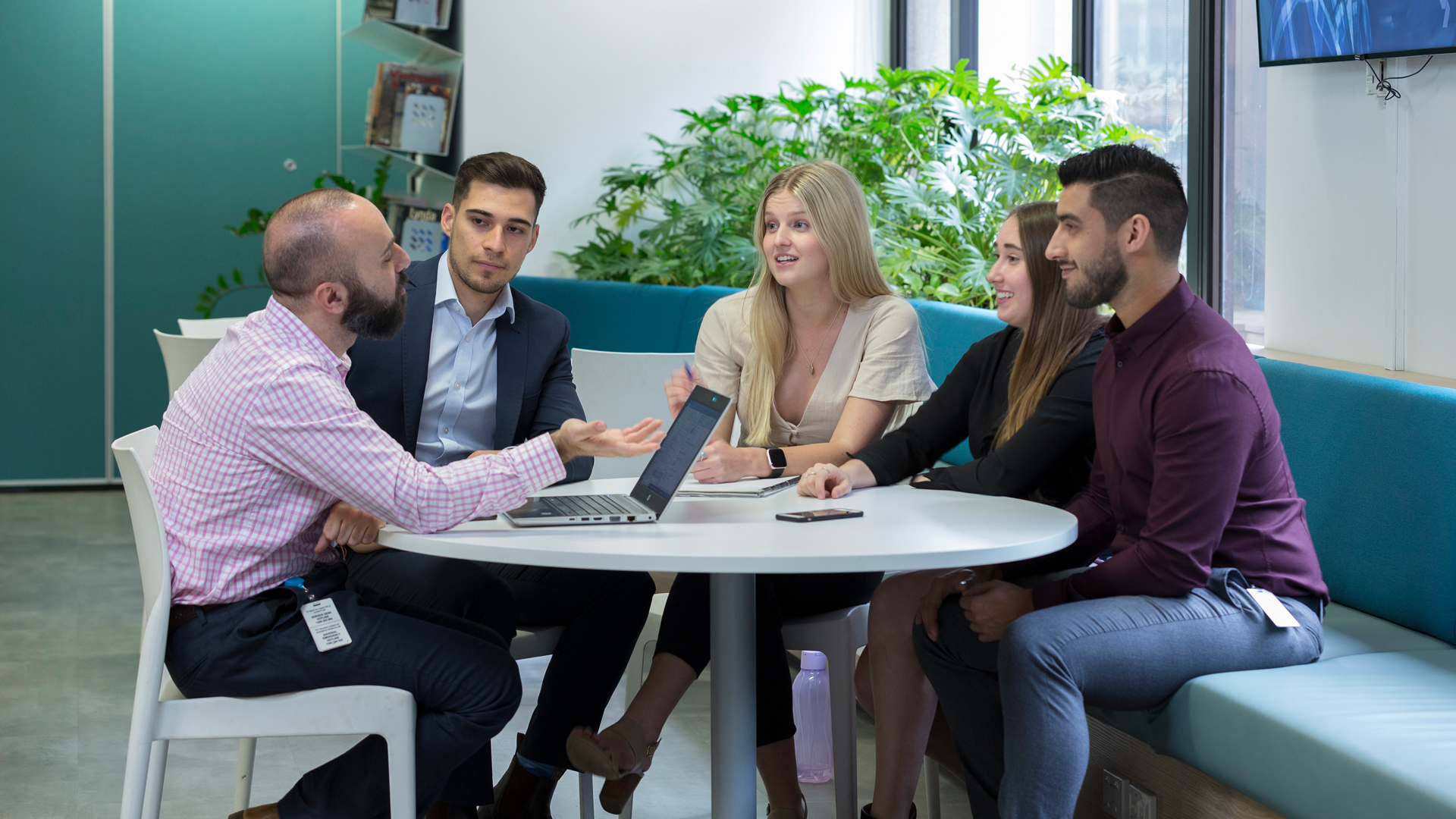 Our benefits
Just as we care for our customers,
we care for our people.
Our employee benefits are another way we say 'thank you'.
Health & Wellbeing
Employee Assistance Program (EAP)
Employee Care Program
Medibank Corporate Private Health Insurance
Annual Flu Vaccinations
Domestic Violence Support
Fruit boxes delivered twice a week to the office
Take care of your family
Up to 16 weeks of Paid Parental Leave for primary caregivers
10 days paid parental leave for non-primary caregivers
Discounts
Retailer discounts and exclusive offers available through our RewardsHub
Specsavers corporate discount
Subsidised fitness events
Gym discounts
Novated car lease
Discounted flights with Virgin Australia
Discounts with the car sharing platform GoGet
Join Sunsuper, EML's default superannuation fund, to gain access to a wide variety of lifestyle offers and benefits
Supporting work / life balance
Flexible working arrangements – we offer you the opportunity of flexible working so you can achieve a better work life balance and increase your wellness through monthly Rostered Day's Off, Working from Home flexibility and hours of work
Reward & Recognition
Tenure Recognition
Employee Recognition Payment
National Excellence Awards
Business Unit Quarterly Awards
Employee events
17.5% leave loading
Career Development
Your career at EML will be full of opportunities to gain new skills. Our people tend to stay a while because we provide support and stimulation to keep you encouraged every step of the way.
As a growing business, there are plenty of opportunities for developing your career, including secondments and transfers across many of our Australian office locations.
We'll also expose you to a wide range of management and leadership development courses and accredited training.
Talent and succession planning
We identify the top performers across our business. This annual review means we can ensure upcoming opportunities are aligned with individual career aspirations.
National claims career pathway
We provide opportunities for development and promotion within our claims departments by setting clear competency expectations and providing support to address learning needs required in each role.
Professional development
Our suite of face-to-face training courses offers a range of learning opportunities aligned to the technical capabilities and core competencies for all roles across our business.
Online training
Our online learning system provides access to a wide range of interpersonal, professional and management development courses.
Leader development program
Our leadership program is structured for all levels of leadership, from emerging leader through to senior leadership.
Technical training
Whether you're at the start of your career or you're highly experienced in workers compensation and injury management, a wide range of technical training is available to support you.
Our business areas
Renowned for consistently delivering customer care with integrity, EML operates nationally across public and private sectors with new and well-established partnerships in place.
Our people are united by a single purpose to help people get their lives back.
We are a leading workers compensation and personal injury claims management business. Our goal is to help people get their lives back through ongoing support during their return-to-work journey.
Meet our people
Head of COVID Claims
Over 10 years working with EML, Chrissie commenced as a Claims Assistant Role, and is now head of COVID Claims and encompasses EML's high performance fun culture.
Team Leader
Goal setting has proved a valuable way for Steven to build his career and motivate his team to strive for excellence.
Manager, Recovering Independence
EML's mission to help people get their lives back has been a strong motivator for Alice during her 11 years with EML.